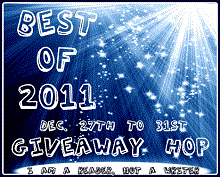 Before I announce the winner, I just want to say welcome to all my new followers! I have gained a ton of new followers over the last week and I am thrilled to talk books with all of you :)
Now for the winner...
a Rafflecopter giveaway
Congrats Elizabeth!!! Elizabeth was chosen using Rafflecopter and her entries were verified. She has already responded with her book of choice: Delirium! Excellent choice, this book is amazing.
Thank you to everyone who entered. If you didn't win today, don't worry! I will be having another giveaway in the very near future, very near as in this week :)